purely 'old' byron _ a new cosmetic line.
It has been sadly noted that Elsa Pataky's (pic) Purely Byron venture into the cosmetic market has failed and the administrators have been invited in and asked to attend to the ruins.
We of course remember how her products encapsulated Byron Bay in that they offered 'powerful natural botanicals' which were 'clinically proven'. We similarly remember her husband Chris Hemsworth's ruination of what was once a couple of acres of powerful natural botanicals at Broken Head.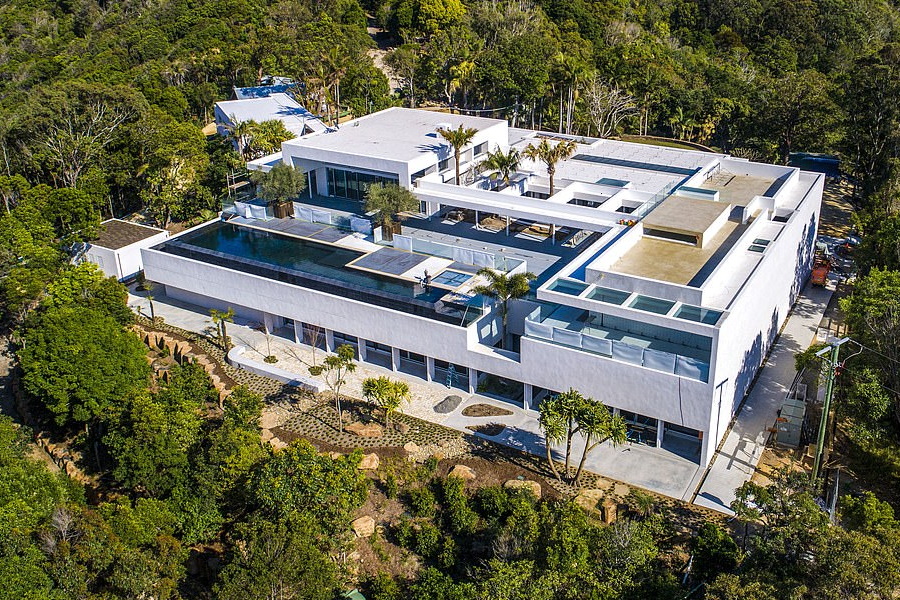 Local word has it that the above Hemsworth pile consists of about 2,000 tonnes of concrete and is visible from 50 kilometres out to sea, more so when he invites his close friends for a private function as he sometimes insists they all show up wearing something blindingly white.
Well, we can't do much to arrest the not so attractive developments at Broken Head but we do have a few suggestions as to what might replace Elsa's Pure Byron venture while at the same time keeping strong links to what we believe was the real essence of Byron Bay which was back in the early sixties, twenty years before young Hemsworth was deposited soiled and squalling on the hospital sheets in Melbourne.
This product for instance
Purely Old Byron's Red Blush Make-up Powder is made exclusively from the dried blood of sympathetically slaughtered bovines and is available in three litre plastic containers. Unfortunately the product is a little on the nose however our clinical division is working 24/7 to correct this aspect.
Then …
We have Purely Old Byron's skin friendly makeup gloves. These handsome units are the product of our pig's offal sausage making division and have been treated to remove any vestiges of Clostridioides difficile Enteritis, Hemorrhagic Bowel Syndrome, Intestinal Salmonellosis and Intestinal Spirochetosis.
The raw product (pic below)is also available for those who wish to fit and manufacture gloves for themselves and their family and is available reasonably priced by the 3 litre bucketload. We suggest you make your own arrangements re above intestinal diseases as the best protection we can offer is that we will seal the bucket with glad wrap in order to keep off the blowflies whilst the product is in private transport.
Next ..
A woman needs a brush to apply make-up, this is not rocket science and we at Purely Old Byron are proud to offer a product that has an extraordinary life regardless of the number of applications it is subjected to. Our pig's bristle brush is attractively set into a bone handle (we waste nothing) which will add inestimable grace to the appearance of the little woman's make-up table. Please note that no source animals were needlessly hurt prior to being put to the knife in our scrupulously clean killing pens.
Now of course we must introduce the management of this exciting new Byron Bay enterprise, and proudly introduce the General Manager and Senior Pig Sticker, Ralph 'Ratso' Pengally, a local man of discerning tastes who would not be caught dead wearing a white ensemble to a fashionable function regardless of the quantities of booze, cocaine and weed on offer.
What may initially escape you here is that Ratso, although covered in blood and gore has kept his face free of splatter, this gives an indication of our resolve to make both our personnel and products attractive to a wider market than that of Byron Bay.
Our product and website launch are scheduled for the 20th of March at the Great Northern Hotel, 5pm.
Free drinks and a 'local' pig on a spit in the beer garden. Tell Scotty I sent you.
https://www.smh.com.au/business/companies/purely-byron-is-for-sale-but-pataky-s-role-in-brand-s-future-unclear-20230315-p5cs93.html