1964 – heritage
A man reads the newspaper every day, sees what's what, keeps up to date, ASX, weather, synoptic, Realsurf, Swellnet, Daily Gospel, Aquabumps – optimistic hopes that the Murdoch disinformation crew gets screwed as much as they have screwed us. Looks for the next South Sydney match. It's a routine, though sometimes there's something in the pages that raises a smile.
Like ….
Is it just me or has Sydney boy Lachlan Murdoch developed a permanent sneer these days and can you blame him? Giving Dad's money away must hurt plenty, plus he's putting on some pudding under the belt.
But I digress. Today the SMH ran an article by Catherine Naylor about Byron council's possible introduction of fines for boardriders who surf without wearing a leg rope and given the atrocious numbers of them infesting what was once a reasonably peaceful point break a man cannot help but agree.
The article rambled on including an account of Matt Cassiday coming to grief  … "Her untethered board then shot up out of the wash and ripped into Cassidy's arm, severing arteries and cutting his bicep in two."
Ouch!
Then, out of nowhere a pic of the 1964 finalists in the World Champ Comp at Manly in 1964 – and I have to say, I was there and reckon I've seen every pic taken by every photographer of that event.
But never this one.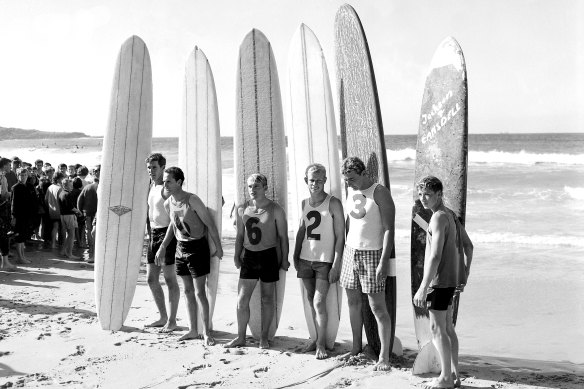 Cabell, Richards, Dooley, Midget, Doyle, Bobby Brown.